Published by: freedown on 14-09-2023, 09:00 |
0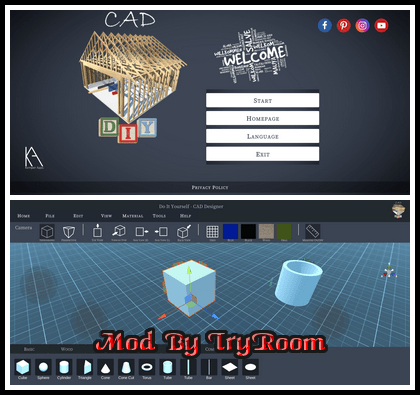 DIY CAD Designer v0.9
Requirements: Android 6.0+ | Size: 225 MB
DIY CAD Designer has numerous libraries so you can easily drag and drop wooden beams, boards, sheets, rods and much more into your 3D scene to construct your project.
You can also use the importer to import models from other programs to use in your project. With DIY CAD Designer you can import the following formats
- FBX
- OBJ
- GLTF2
- STL
- PLY
- 3MF
Numerous libraries make your work easier. DIY CAD Designer contains the following component libraries
- Base
- Wood
- Metal
- Glass
- Stone
- Components
There are also numerous materials and colours that will help you to implement your planning realistically.
You can change components quickly and easily with the editing functions. Rotate, scale, position or copy your components. Choose between imperial[ft] or metric[m] system of measurement. You can change your view at the push of a button, whether orthogonal or perspective, depending on the application. Fast viewing angles such as top view, front view or side view are also possible. With the 3D dimensioning system, you can very quickly read all the information you want from your construction. With the photo function, you can create and share high-resolution images of your project. So what are you waiting for? Download DIY CAD Designer now and take full advantage!
What's New
- No Changelog
Package Info
● Supported Languages: None;
● Supported CPU architecture: Armeabi-v7a, Arm64-v8a, X86, X86_64;
● Supported Screen DPI: None.
Graphic Optimizing Info
● Optimized Png's: 100% | Saved: 98 Kb (54%);
● NO Jpg's In Apk Detected;
● Storing Resources.arsc Uncompressed;
● Recompressing Classes.dex;
● Recompressing Libraries;
● Zipaligning Apk.
Mod Info
● Pro Feature Unlock.
● A Skip Privacy Policy.
● Ads Removed / Disabled.
● Ads Related Activity & Code Removed / Disabled.
● Ads Related Layouts Visibility Gone.
● Analytics / Crashlytics Removed / Disabled.
● Receivers, Services And Provider Removed / Disabled.
● Google Play Services Check Removed / Disabled.
● Google Play Store Install Package Removed / Disabled.
● In-App Billing Service Removed / Disabled.
● Play Services, Transport, Firebase Properties Removed.
● All Unnecessary Garbage Folder & File Removed.
● Duplicate Dpi Item Remove Like
- Bar Length, Drawable Size, Gap Between Bars.
● Splits0 File Removed (Resources & AndroidManifest).
● Splits0 Releated Unnecessary Meta-Data Remove Like
- Stamp Source, Stamp Type Standalone Apk, Android Vending Splits, Android Vending Derived Apk.
● Removed Debug Information (Source, Line, Param, Prologue, Local).
● Mod Apk Size 225 Mb.
[related-news]
Related News
[/related-news]
Comments (0)
Information
Users of Guests are not allowed to comment this publication.
Search
Updates
Friend Sites
WarezWorm

Your Link Here ?
(Pagerank 4 or above)
FaceBook Suport